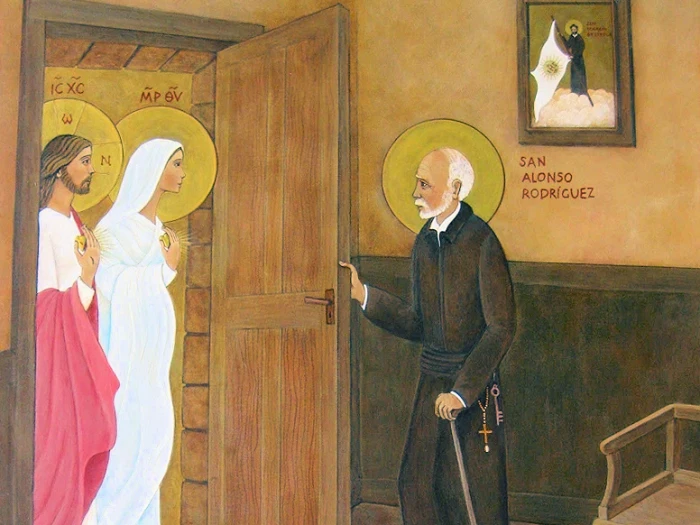 Readings: Isaiah 1:10. 16-20; Matthew 23:1-12
"Do not be guided by what they do, since they do not practise what they preach." (Matthew 23:3)
St Alphonsus Rodriguez was a Jesuit lay brother who worked as a doorkeeper for forty-six years. His task was to receive visitors at the door of his community, deliver messages and run errands. Each time the bell rang he looked at the door, and imagined it was God standing outside seeking admission. He answered the door with the words, "I'm coming, Lord."
Jesus' words in today's Gospel, about the scribes and Pharisees not lifting a finger to remove the burdens imposed on suffering people describe a group of people, settled in their prestigious comfort zones, blind to the needs of others because of their own complacency. If we find ourselves wondering how we can avoid this situation, today's first reading can help us. Isaiah urges us, "Learn to do good, search for justice, help the oppressed, be just to the orphan, plead for the widow." As we encounter people who are poor and oppressed we ourselves are changed – a gift from which the misguided scribes and Pharisees excluded themselves.
St Alphonsus Rodriguez' example of seeing God in everyone who came his way can help us as we try to engage with our Lenten duty of coming to the aid of those who are poor. Our service may seem small and insignificant. However, when we realise God is present in all whom we encounter we can be filled with a humble gratitude that rejoices in being asked to serve our loving Lord in apparently insignificant ways. Such encounters can be surprisingly fruitful.
Prayer
Heavenly Father, forgive us our pride and complacency. Teach us to recognise you in the small events of daily life. Open our eyes to see you in all whom we meet and to serve you with humility and love. We ask this in the name of Jesus your Son. Amen.