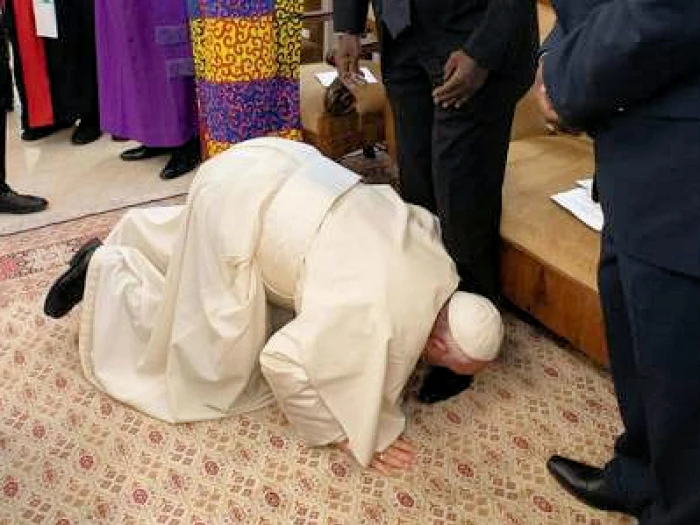 Readings: Daniel 9:4-10; Luke 6:36-38
"Be compassionate as your father is compassionate. Do not judge." (Luke 6:36-37)
At the end of a spiritual retreat for peace in South Sudan, hosted by Pope Francis in 2019, the Pope prostrated himself before South Sudanese politicians and kissed their feet. It demonstrated Pope Francis' profound compassion for the suffering people of South Sudan. It also showed he neither judged nor condemned the politicians. He prioritised mercy and compassion and pleaded for a culture of dialogue and forgiveness.
Jesus' words in today's Gospel can disturb us. They are truly radical and countercultural. And they call for a total trust in God who holds us all in being. We can become generous and compassionate people when we remember that God is in charge – not us. One step towards the compassion Jesus advocates is heeding the words of the prophet Daniel in today's first reading. The prophet reminds us that we ourselves are sinners who stand always in need of God's mercy. Knowing our own sinfulness, can we legitimately judge other people?
How can we become compassionate as our heavenly Father is compassionate? Compassion is not the same as indulgence. It empowers people and respects their human dignity. We may at times need to be compassionate to ourselves in order to overcome a harsh inner critical voice which could make us unduly critical of both ourselves and other people. Frequently reminding ourselves that we are always under the loving gaze of God can help us to be more compassionate to both other people and ourselves.
Prayer
Compassionate God, forgive us our hardness of heart that prevents us from showing your compassion to the world. Give us a spirit of compassion that can bring liberation and healing to those in need. We ask this in the name of your Son, Jesus Christ our Lord. Amen.