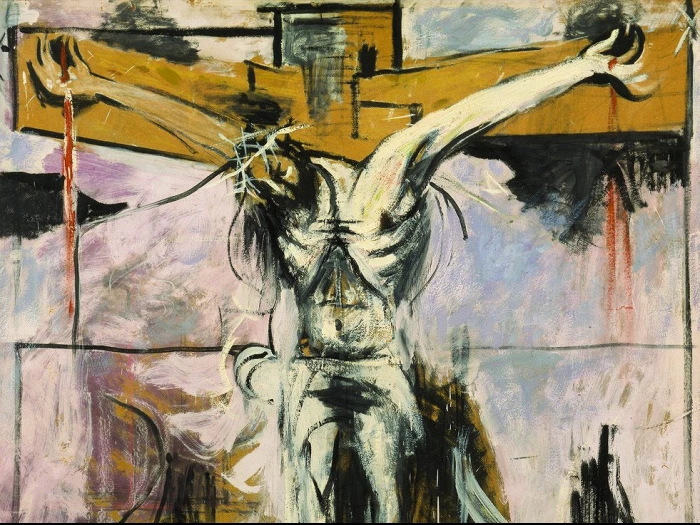 Friday of the Passion of the Lord
Readings: Isaiah 52:13 – 53:12; Hebrews 4:14-16; 5:7-9; John 18:1 – 19:42
"They will look on the one whom they have pierced." (John 19:37)
Capital punishment is still practised in some countries, but mostly not in public. Centuries ago, executions were commonly carried out for all to see, adding humiliation to the agonies of the condemned. Authorities hoped to instil fear, though from the size and unruliness of the crowds that gathered, it became increasingly apparent that public executions were more of an entertainment than a deterrent.
The Romans specialised in such public spectacles, crucifixion being the cruellest of all. Zechariah prophesied: "They will look on the one whom they have pierced." Many people did look as Jesus was nailed to a cross, and we hear in today's Passion reading how they reacted. Jesus' mother, aunt and friend drew close. The soldiers played dice, having seen it all before. As for his secret disciples, Joseph of Arimathaea wanted the body removed and Nicodemus to have it preserved. He laid it on a priceless bed of spices to prevent decay. If only he knew!
Today, in churches everywhere, people will also be looking upon "the one whom they have pierced", and reacting in similar ways. While we gather, as the three Marys did, to draw near in veneration, passers-by may appear indifferent. Like the soldiers, they simply go about their daily business. For some, like Joseph and Nicodemus, the sight of suffering stirs uncomfortable feelings. Good Friday may be a painful echo of their own personal losses and regrets. Death is not, however, the end of the story, neither for Jesus, nor for us.
Prayer
We adore you, O Christ, and we bless you,
because by your holy cross you have redeemed the world.
Amen.