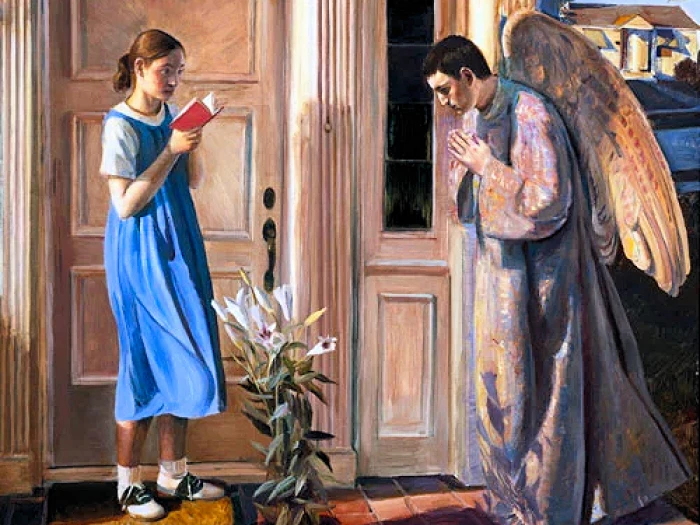 The Annunciation of the Lord
Readings: Isaiah 7:10-14; 8:10; Hebrews 10:4-10; Luke 1:26-38
"I am the handmaid of the Lord... let what you have said be done to me." (Luke 1:38)
The British-born American poet Denise Levertov composed a poem of extraordinary beauty entitled "Annunciation". She speaks of the "astounding ministry" that Mary was offered: "to bear in her womb / Infinite weight and lightness; to carry / ... / in narrow flesh, / the sum of light..."
Today, we celebrate the incarnation. In the womb of young Mary of Nazareth, the eternal Son of God becomes flesh, truly one of us. And where does this awesome event take place? In a remote town in a distant province of the Roman Empire, in a humble family home, there takes place the greatest event in human history: unnoticed by all human beings except one, known only to God and the angels, and the young woman who said "Yes" to God. Perhaps that is the nature of the deepest mysteries. Eternally, heaven has awaited Mary's consent. She responds to the angel's words and entrusts herself totally to the will of God.
God's will for each of us can only be for the best. In faith we know that, but can we live by it? For it demands a total trust in God. It often demands the hard choice rather than the easy one. And often we feel that we are not up to it. And so we need help; we need grace. And surely the one full of grace is someone we can turn to in our need? Let us ask Mary to pray for us and with us today.
Prayer
Heavenly Father, by the consent of Mary and the power of the Holy Spirit, your eternal Word came to dwell among us. Open our hearts to welcome him, as did Mary, our example of noble and generous faith. Amen.