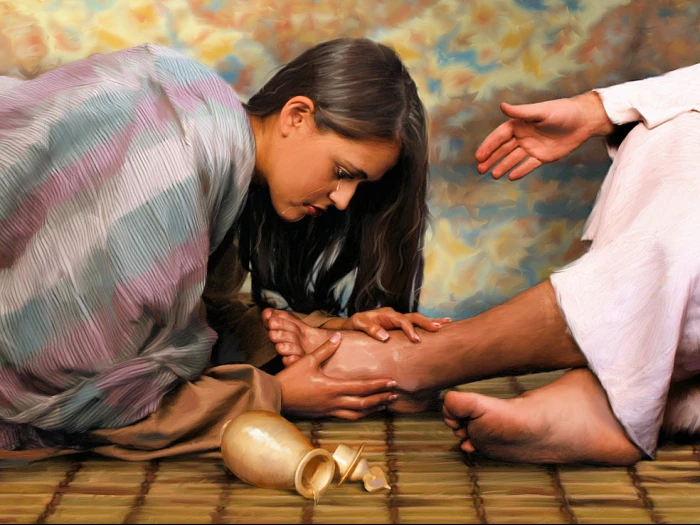 Monday of Holy Week
Readings: Isaiah 42:1-7; John 12:1-11
"Leave her alone; she had to keep this scent for the day of my burial." (John 12:7)
William Shakespeare wrote in his play Coriolanus that "Action is eloquence." That is often so in the presence of grief when well-wishers may struggle to find the right thing to say. After all, not everyone is good at putting thoughts and feelings into words. In difficult circumstances deeds convey sympathy just as touchingly. Gestures speak directly to the heart.
Actions unaccompanied by words are nevertheless liable to misinterpretation. So it was at a farewell dinner held for Jesus. In today's Gospel we heard how Mary of Bethany brought in a jar of priceless perfume. Wordlessly, she poured it over Jesus' feet, and wiped them with her hair. We can almost hear the embarrassed gasps. Was she anointing him as king, or was this a preparation for burial? The gesture seemed quite lost on Judas. With so many people hungry and in need, it seemed scandalous that she should squander so valuable a resource.
Perhaps it was a waste, but Jesus was about to do something even more extravagant. Soon, his life would be the fragrant offering; his own blood the precious substance poured out in love. Mary wanted him to know that she understood what he was facing. Perhaps there is someone who needs that kind of empathy from us today. It would take no special skill to show them that we care and that we recognise what they may be going through. A smile or a simple gesture would say it eloquently. We waste nothing by trying.
Prayer
Lord Jesus, we pour out our heart's gratitude for the extravagant sacrifice you made for us. Should we be embarrassed to show our love for you, or tempted to make a secret of it, may our actions speak more eloquently than our words. Amen.