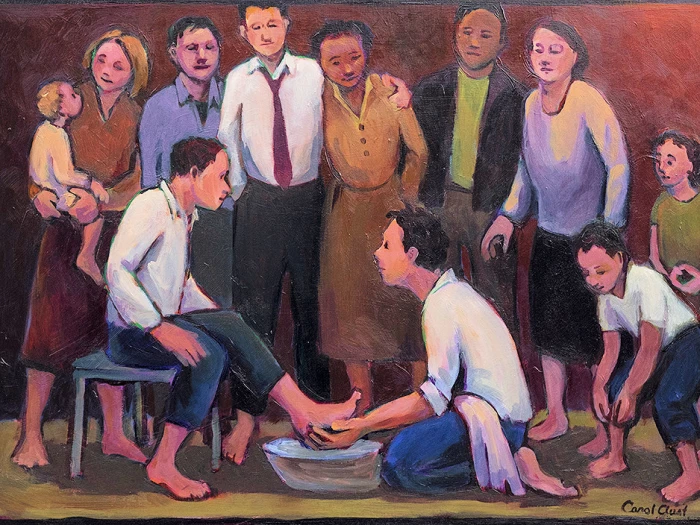 Maundy Thursday
Readings: Exodus 12:1-8. 11-14; 1 Corinthians 11:23-26; John 13:1-15
"I have given you an example." (John 13:15)
Some find it hard to be on the receiving end of other people's generosity. It leaves them feeling patronised, perhaps, or they may not think they deserve it. It is why gifts often trigger the impulse to reciprocate, when all that is needed is a simple "Thank you". Unwillingness to receive, however, may not always be a lack of graciousness: people are naturally suspicious that a gift might come with strings attached.
This is the night when we give thanks for a gift of priceless worth; one that is unconditional. The Jewish Passover was a thanksgiving for redemption, a meal which Christ imbued with new meaning when he celebrated the Last Supper with his disciples. He was gifting his very own life to redeem the world. Simon Peter struggled even to let Jesus wash his feet: "Never!" he said. But only Jesus' own purity could make Peter pure. Only the precious gift of Jesus' body and blood can save any of us.
Tragically, there will always be those who turn down this gift of such unmerited generosity. As for us, we are here humbly to accept; to allow our hearts to be washed clean; to receive the gift of Christ's own life in his broken body and poured-out blood. So it is that, again and again, we come to this table at which Christ offers himself. Again and again we feel drawn to imitate his life of loving service.
Prayer
Jesus, Master and Lord, teach us to be generous givers and gracious receivers. Out of love you died to cleanse this world of its sin. May we never be too proud to serve, nor too hard-hearted to forgive. Amen.