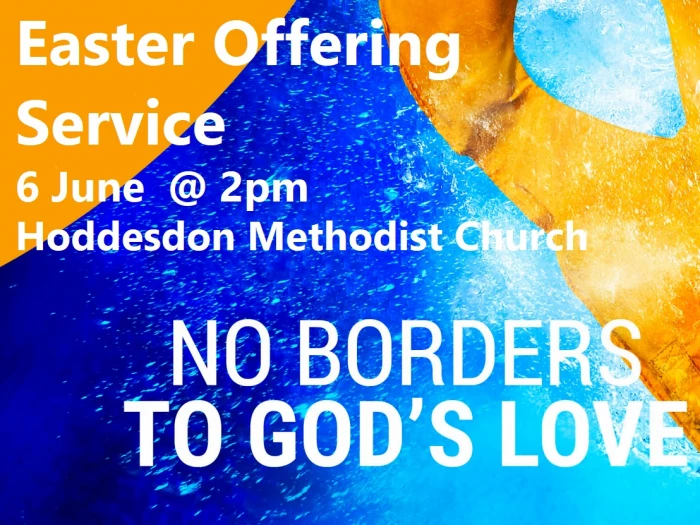 No borders to God's love
The stranger who resides with you shall be to you as a citizen among you; you shall love the stranger as yourself.
Leviticus 19:34 NIV
Many churches support people who have come to the UK in search of sanctuary. This years Easter Offering Service will focus on welcome and hospitality, especially to people who are displaced and forced to migrate. It includes the dedication of the Easter Offering, all of which goes to the World Mission Fund of the Methodist Church in Britain, supporting and working with over 100 Partner Churches and organisations around the world.
Easter Offering Service 2023
This years Easter Offering Service is being held at Hoddesdon Methodist Church on Tuesday 6 June at 2pm. All are Welcome.
About Easter Offering
Each year, the Methodist Church holds an Easter Offering dedication service. This tradition dates back to 1883, when women in Manchester collected £32 for missionary work overseas from 'Christmas pennies' at family gatherings on Christmas Day. In March 1884, the London Districts distributed Easter envelopes and collecting bags asking for a penny a head, and collected around £100. In 1900, Women's Work raised £1,655 for the work of overseas missions.
Since then, each successive Methodist women's movement has encouraged donations in support of God's mission. Recently, Methodist Women in Britain (supported by the Global Relationships team) have produced an annual service of dedication, often used widely around the Connexion as a circuit service.
All the money raised through the Easter Offering goes to the World Mission Fund of the Methodist Church in Great Britain for work in our Partner Churches around the world.
We thank Methodist Women in Britain for running this appeal, and you for making a difference by contributing to God's mission in this way.
For information about Methodist Women in Britain, please write to MWiB, c/o Touchstone, 4 Easby Road, Bradford BD7 1QX or visit www.mwib.org.uk.