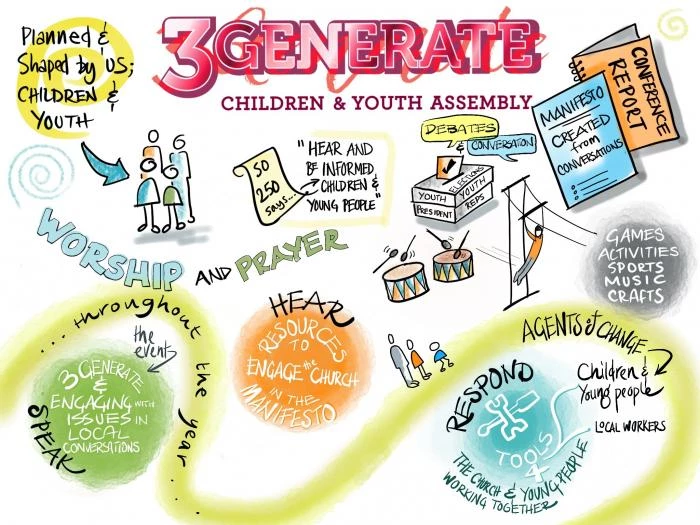 We are excited to report that a group of 25 young people and 7 adult volunteers will be attending 3Generate 2019 which will take place 22-24 November 2019 at Pontins, Southport.
We are particularly grateful to the Beds, Essex and Herts Methodist District who pay the £120 registration fee for each young person, and to the national Methodist Church who cover the costs for the adults volunteers.
What is 3Generate?
3Generate is an action-packed and inspiring weekend for hearing the voice of children and young people across the Methodist Church, focussing on fun, faith and friends.
3Generate is more than just another event – it's a model of participation, a process and an inter-generational way of working that is unique to Methodism.
3Generate exists to provide an opportunity for the Church to hear from and be informed by young people. Aimed at anyone between 8 and 23.
3Generate is planned and shaped by children and young people for children and young people – alongside a team of adult facilitators from the Connexion, who specialise in working with children and young people.
3Generate is a speak-out event for children and young people. It is the Children and Youth Assembly of the Methodist Church (Standing Order 250).
3Generate provides a unique opportunity for dialogue and engagement with children and young people. Outcomes from the weekend are fed back to Methodist Conference and help to inform the work and direction of the Connexional Team and local congregations.
As well as providing opportunities for lots of indoor and outdoor activities, children and young people will be able to make friends and engage with issues that really matter to them – both in the Church and in their wider world. 3Generate offers time and space to worship, debate and have fun together.
Everyone can get involved – children, young people, young adults and youth workers participate in the creation and delivery of the event through local 'Shaper Groups' and resources are available to support work with children and young people in the local context all year round. Through 3Generate we aim to encourage children and young people to play a more active part in their local churches, circuits and districts.