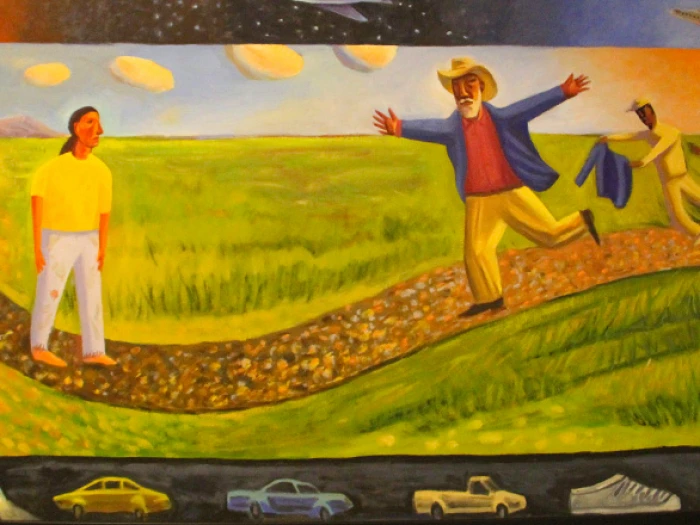 Readings: Micah 7:14-15. 18-20; Luke 15:1-3. 11-32
"What god can compare with you: taking fault away, pardoning crime, not cherishing anger for ever but delighting in showing mercy?" (Micah 7:18)
Imagine today's Gospel parable in terms of a modern family. A parent has given a child a share of the family inheritance. The child goes away, squanders the money on drugs and destructive lifestyles and returns to the parent as a broken, penniless drug addict, only to be warmly embraced with an amazing welcome-home party. We might not be too surprised by signs of resentment and anger from any sibling. However, what we might find incomprehensible could be the expansive love of the parent.
In today's parable the father, who represents God, reveals to us a God who loves both the wild tearaway son and the dutiful, although resentful, older son. The sad feature of this well-known story is that the elder son distances himself from the joyful reunion and becomes imprisoned in resentment and self-righteousness.
Are there any ways in which we might resemble this older son and imprison ourselves in patterns of thought and behaviour that can prevent us from joyful celebrations in which the lost are found and the dead come back to life? The father tells his elder son, who is always with him, that all the father has is also his son's. How has this son become so blind to his father's generosity? Do we share the confidence in the love and mercy of his father that the younger son displays? Can we throw ourselves unreservedly into God's arms and celebrate the gift of forgiveness?
Prayer
God our Father, we thank you for the gift of freedom. May your Holy Spirit guide us to use our freedom for your greater glory and the building up of your kingdom. Free us from all resentment and self-pity and help us to live joyfully our baptismal vocation. Amen.