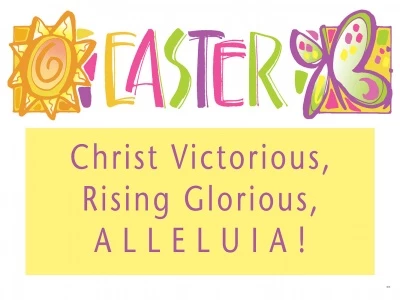 Easter commemorates the resurrection of Jesus Christ. It is the most important Christian festival, and the one celebrated with the greatest joy.
Without Easter there would be no Christianity.
Without Jesus' suffering, his execution and subsequent resurrection there would be no Christianity, for however terrible the suffering was, it was part of God's plan for the salvation of humankind.
In Western Christianity, Easter marks the end of Lent, a period of fasting and penitence in preparation for Easter, which begins on Ash Wednesday and lasts forty days (not counting Sundays).
"Christ the Lord is risen to-day,"
Sons of men and angels say.
Raise your joys and triumphs high;
Sing, ye heavens, and earth reply.
(Charles Wesley)
Alleluia! Christ is risen!
He is risen indeed. Alleluia!
Easter Prayer
This prayer has been written by the Revd Michaela Youngson. You could use this in your small group, on your own, or in your church services during Easter.
When everything was dark
and it seemed that the sun would never shine again,
your love broke through.
Your love was too strong,
too wide,
too deep
for death to hold.
The sparks cast by your love
dance and spread
and burst forth
with resurrection light.
Gracious God,
We praise you for the light of new life
made possible through Jesus.
We praise you for the light of new life
that shone on the first witnesses of resurrection.
We praise you for the light of new life
that continues to shine in our hearts today.
We pray that the Easter light of life, hope and joy,
will live in us each day;
and that we will be bearers of that light
into the lives of others.
Amen.