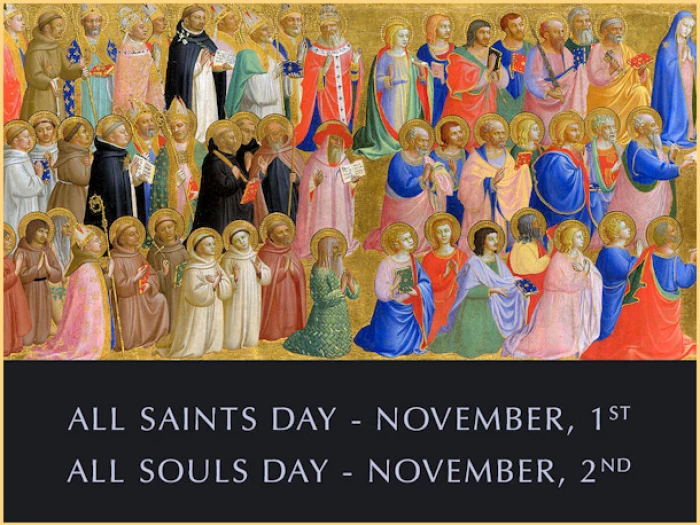 No Christian is solitary
Through baptism we become members one of another in Christ, members of a company of saints whose mutual belonging transcends death:
One family, we dwell in him,
one Church, above, beneath;
though now divided by the stream,
the narrow stream of death. (Charles Wesley)
All Saints' Day (1 November)and the Commemoration of the Faithful Departed on All Souls' Day (2 November) both celebrate this mutual belonging.
All Saints' Day
Celebrates men and women in whose lives the Church as a whole has seen the grace of God powerfully at work.It is an opportunity to give thanks for that grace, and for the wonderful ends to which it shapes a human life; it is a time to be encouraged by the example of the saints and to recall that sanctity may grow in the ordinary circumstances, as well as the extraordinary crises, of human living.
The Commemoration of the Faithful Departed
Celebrates the saints in a more local and intimate key. It allows us to remember with thanksgiving before God those whom we have known more directly: those who gave us life, or who nurtured us in faith.
Redemption is a work of God's grace; it is God who redeems us in Christ and there is nothing to be done beyond what Christ has done. But we still wait for the final consummation of God's new creation in Christ; those who are Christ's, whether or not they have passed through death, are joined in prayer that God's kingdom will be revealed finally and in all its fullness.
A prayer for All Saint's Day
God of holiness,
your glory is proclaimed in every age:
as we rejoice in the faith of your saints,
inspire us to follow their example
with boldness and joy;
through Jesus Christ our Lord.
Amen.
A Prayer for All Souls' Day
Listen kindly to our prayers, O Lord,
and, as our faith in your Son,
raised from the dead, is deepened,
so may our hope of resurrection
for your departed servants
also find new strength.
Through Jesus Christ our Lord.
Amen.