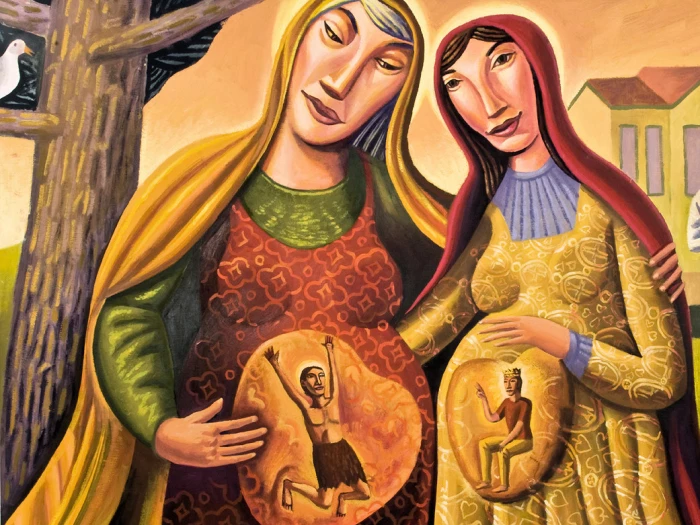 This weeks Gospel reading for the Fourth Sunday of Advent, tells the story of Angel Gabriel visiting the Virgin Mary to tell her that she is to become the mother of the incarnate Son of God. later on in the story, Mary goes to visit her cousin Elizabeth, who is also expecting a child (John the Baptist) and during the encounter Mary sings the great hymn of praise to God that we know as the 'Magnificat'.
These prayers use the words of the Magnificat as a framework for prayers that you can pray on your own or with others...
Magnificat...
My soul magnifies the Lord, and my spirit rejoices in God my Saviour,
for he has looked with favour on the lowliness of his servant.
Take a moment to reflect on this past week...
What were the good moments?
The moments that made your spirit rejoice?
The moments you can thank and praise God for?
Surely, from now on all generations will call me blessed;
for the Mighty One has done great things for me, and holy is his name.
Offer your praise to God together, lifting up his holy name quietly or aloud.
His mercy is for those who fear him from generation to generation.
Pray quietly or aloud for those who love and serve God around the world;
perhaps mentioning the names of places and communities.
He has shown strength with his arm; he has scattered the proud in the thoughts of their hearts.
He has brought down the powerful from their thrones, and lifted up the lowly;
Lift up places and people who are under pressure from "proud" opponents at the moment,
those who need God's help and strength.
He has filled the hungry with good things, and sent the rich away empty.
He has helped his servant Israel, in remembrance of his mercy,
according to the promise he made to our ancestors, to Abraham and to his descendants forever.
Lord, help us to hang on to these promises in this coming week.
Help us to keep in mind your presence with us in every situation.
Please nurture in us thankful and appreciative hearts,
and help us to keep in mind those who need lifting up,
in the name of Jesus, Amen.