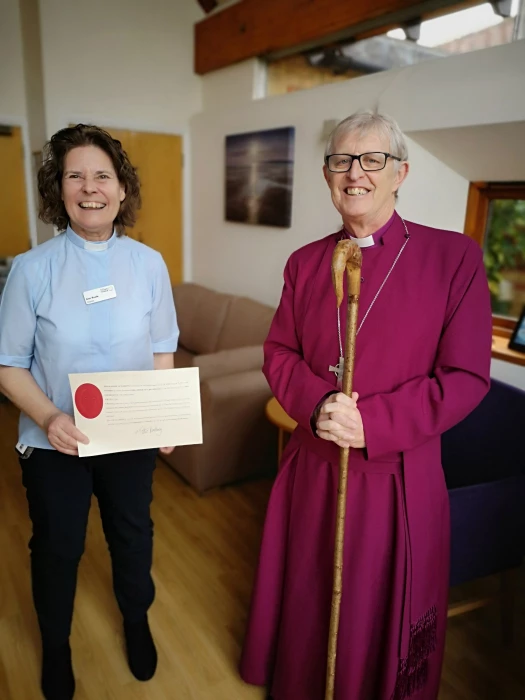 We are delighted to give the following 'good news' update on Revd Ann Kosla...
West Essex and East Hertfordshire charity, St Clare Hospice, recently welcomed a new Chaplain to their team following a licensing service which took place at their main hospice centre in Hastingwood on Wednesday 18th March.
Revd Ann Kosla, formerly the Vicar of Church Langley Church in Harlow, was licensed at St Clare by Rt Revd Peter Hill, the Bishop of Barking at a small, closed event. Following government guidance to minimise the risk of infection of Coronavirus (Covid-19), a larger welcome event has been postponed until later in the year.
The purpose of the licensing service was to commit the newly appointed Chaplain to the spiritual and pastoral care of those within the hospice's communities – including those who give and receive treatment such as patients, staff and relatives.
Rt Revd Peter Hill, the Bishop of Barking, commented: "I'm delighted to have licenced Ann as the new Chaplain of St Clare. The work of a Chaplain in a hospice is vital, and I wish Ann all the best in her new role offering pastoral support to patients and families at St Clare."
Outlining the role that Chaplaincy plays at St Clare, Ann said:
"Sometimes, when people come to the end of their lives, they can experience uncertainty, anxiety and concerns about the future. At such times you may become aware of spiritual issues. There may be questions, hopes, fears or regrets which are important to voice and perhaps explore. I am here to offer that listening ear to help patients, their families and friends, and our staff, to enable them to speak about these thoughts."
"Spirituality is sometimes, but not always, expressed in religious faith. Spirituality means something different to everyone, and we can all have spiritual needs – regardless of if we follow a particular religion or faith, or none. The chaplain at St Clare Hospice is available to all patients and families of any or no faith, as well as for those who are unsure of what they believe. The aim is to offer spiritual care, sensitive and appropriate to each person's needs, so that they may find strength as they navigate one of the most difficult journeys in life."
Ann will be working with the Patient and Family support team at St Clare Hospice who offer holistic support to patients, family and friends considering their practical, emotional, spiritual and social needs. Ann will be working in the coming months to develop a team of chaplaincy volunteers to offer on-call pastoral and spiritual support to people of all faiths and none.
To find out more, visit: stclarehospice.org.uk/support-families